ColegauCymru is delighted to congratulate Bridgend College Chief Executive Simon Pirotte OBE in today's announcement as preferred candidate for the role of Chief Executive Officer for the newly formed Commission for Tertiary Education and Research.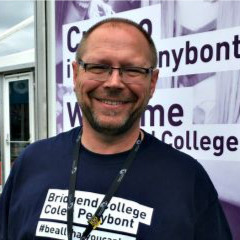 ColegauCymru Chair Guy Lacey said,
"Simon is a proven leader and has a wealth of experience of working in the post-16 sector. He will be a big loss to Bridgend College and to further education, but he is the right person to lead the new Commission in these crucial early years. Having previously served as Vice Chair of ColegauCymru, Simon understands the power of high-quality learning to transform lives and the importance of post-16 education to the wellbeing of today's and future generations. Colleges look forward to working with him to deliver our vision of all learners being able to access world-class education."

"As well as getting the organisation up and running, the leadership of the Commission needs to begin looking at the big changes needed to improve outcomes for learners and to support businesses. Priority needs to be given to improving the transition from schools into post-16 education and to supporting vocational education and training for people of all ages."
Simon has worked in the education sector for over thirty years in roles across HE, FE and the schools sector. He also worked as Head of Department in Los Angeles, USA on a year-long Fulbright Scholarship. 
In 2021, Simon was awarded an OBE in the Queen's New Year's Honours List for services to education.
As Principal and Chief Executive of Bridgend College, Simon has won several prestigious awards in recent years including the UK Further Education College WhatUni Award of the Year for Higher Education 2018, and UK AoC Beacon Award for Leadership and Governance 2018. Bridgend College was also listed as the best Further Education College in the UK in The Times 100 Best Companies to work for list in 2017 and again in 2020. In 2019, the College was named The Times Educational Supplement College of the Year.
We wish Simon every success in his new role and look forward to contiuning our work with him.
Further Information
Cabinet Statement
Written Statement: Establishment of the Commission for Tertiary Education and Research - Appointment of the Chief Executive Officer (CEO)
19 April 2023
Lucy Hopkins, Communications Manager
Lucy.Hopkins@ColegauCymru.ac.uk